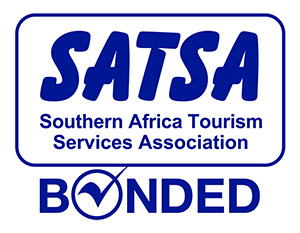 Scenic Route Trading 180 CC trading as Resolute Travel is a full member of SATSA (Member Number 1751). Those who belong to SATSA fly a flag that symbolizes credibility, stability and integrity. SATSA members must adhere to a strict Code of Conduct guaranteeing high standards of service, good quality tourism services and product, and a trustworthy accreditation with the association itself.
Members are bonded with third-party indemnity, ensuring financially sound relationships when using them as suppliers. SATSA members are also required to submit documentation pertaining to their business annually so that the association can verify they are indeed running a healthy business that can be recommended to international tour operators.
Our members offer a wide-range of services and products across the region and fit to serve any tour operator sending clients into Southern Africa. We are very proud that every year, SATSA members feature as winners in international and local travel and tourism award programmes. A number of SATSA members have also been certified by Fair trade in Tourism South Africa.
ALL SATSA MEMBERS:
have to conform to the highest standards in the tourism industry, which are checked annually. are bonded, providing a financial guarantee of deposits held against the involuntary liquidation of a SATSA member.
are Bonded with third party indemnity, ensuring financial peace of mind
offer a huge range of activities, accommodation and transport to meet all needs.
The SATSA logo is a guarantee to travellers of quality in tourism, and is highly prized.