9th – 18th October 2021
Overview: 7 Nights' & 5 Rounds of Golf
Join Resolute Travel for our annual set tour to Thailand where you will enjoy 7 magnificent nights' in Hua Hin with 5 rounds of golf on incredible courses. Our numbers are limited 32 golfers on a first come first serve basis. With daily competitions and prizes all the way through to the overall team winners this will be an experience not to be missed. Resolute will be there to oversee everything to ensure your experience is top notch from start to finish.
TOUR INCLUDES:
Return flights from Johannesburg to Bangkok departing on the 9th October 2021 (arriving 10th) and returning on the 17th October back into South Africa on the 18th October 2021
All airport taxes
Meet and greet on arrival
All airport, land, and golf course transfers (All transfers by private VIP high top touring vans)
7 nights at the 4* Amari Hua Hin Hotel from the 10th October 2021
Buffet breakfast daily

5 rounds on championship golf courses




ROUND 1

– Palm Hills Golf Resort and Country Club


ROUND 2

– Majestic Creek Country Club


ROUND 3

– Springfield Royal Country Club


ROUND 4

– Black Mountain Golf Club


ROUND 5

– Banyan Golf Club
One caddie per golfer at each golf course
Customized caddie bib for each golfer
Daily prizes and overall prize
Golf carts throughout
Daily drinking water
Welcome & farewell dinner
Local knowledge, expertise, suggestions, and support throughout the trip
Resolute Travel + Sport Representative with the group throughout
EXCLUDES:
Tips and Gratuities
Items of a personal nature
Food other than where specified
Hua Hin Tour Itinerary
SATURDAY 9th OCTOBER 2021
Depart Johannesburg at 10h30 on landing in Dubai at 20h40 before connecting on 22h30 flight for Bangkok.
SUNDAY 10th OCTOBER 2021
Land in Bangkok where you will be met by your tour host and transferred to Hua Hin (2.5hrs) where you will check in to the 4* Amari Hua Hin for a 7 night stay on a B&B basis. Afternoon at leisure before meeting in reception to head to the Resolute Travel welcome dinner.
MONDAY 11th OCTOBER 2021
Golf at Palm Hills Golf Resort and Country Club (well-maintained palm-lined course with views over the Gulf of Thailand) including cart and caddie. Prize giving after golf before heading back to the hotel, evening at leisure.
TUESDAY 12th OCTOBER 2021
Golf at Majestic Creek Country Club (excellent layout in hills west of Hua Hin) including cart and caddie. Prize giving after golf before heading back to the hotel, evening at leisure.
WEDNESDAY 13th OCTOBER 2021
Golf at Springfield Royal Country Club (Nicklaus design is a long-time area favorite) including cart and caddie. Prize giving after golf before heading back to the hotel, evening at leisure.
THURSDAY 14th OCTOBER 2021
Free Day (list of optional day activities will be provided).
FRIDAY 15th OCTOBER 2021
Golf at Black Mountain Golf Club (one of the 100 best golf courses in the world) including cart and caddie. Prize giving after golf before heading back to the hotel, evening at leisure.
SATURDAY 16th OCTOBER 2021
Golf at Banyan Golf Club (2009 Best New Course in Asia: scenic & well-maintained) including cart and caddie. Overall prize giving after golf before heading back to the hotel to freshen up. Finale Resolute Tour dinner in Hua Hin.
SUNDAY 17th OCTOBER 2021
Morning at leisure before checking out and transferring to Bangkok Airport (2.5hrs) to check in for your 21h05 flight to Dubai.
MONDAY 18th OCTOBER 2021
Arrive in Dubai at 01h00 and connect on to flight at 04h00 landing back into Johannesburg at 10h15.
END OF TOUR ARRANGEMENTS

7 Night Hua Hin Golf Package
HUA HIN – 4* AMARI HUA HIN HOTEL (7 nights from the 10th OCTOBER 2021)
Located 400 m from a beach, Amari Hua Hin offers elegant air-conditioned rooms with a private balcony and free Wi-Fi. Guests can unwind by the pool or relax with spa treatments. Those who want to stay active can workout at the gym. The hotel is a 10-minute drive from Hua Hin City and Hua Hin Night Market. It is a 2.5 hr drive from Bangkok. Rooms at Amari Hua Hin are tastefully furnished with contemporary decor. Each well-appointed room comes with a flat-screen satellite TV with a DVD player, a minibar and a safety deposit box. Free toiletries, a hairdryer and a bathrobe are included in an en suite bathroom. The hotel is equipped with a business centre, meeting facilities and a tour desk. Staff at the 24-hour front desk can assist guests with laundry and shuttle service. A baby sitting service is also available. The hotel also provides free shuttle service to the beach. Breakfast can be enjoyed at Mosaic while seafood specialities are served at Shoreline Beach Club. Khao Takiab is a great choice for travellers interested in family friendly trips, relaxation and the seaside.

HUA HIN SET GOLF TOUR
PALM HILLS GOLF CLUB
Palm Hills Golf Club located close to Hua Hin center the Hua Hin airport, is in the lower foothills. It was the first international standard Hua Hin golf course and opened in 1992. The following year Palm Hills hosted to the inaugural Thailand World Pro-Am tournament. The golf course is laid out on a long strip of undulating terrain which gives the holes a Scottish 'links' feel, which is different from all the other layouts in the area. The Max Wexler design goes from east to west, with lakes at each end, separated by the clubhouse and an interesting rocky outcrop extending from the mountain range.
Holes
– 18
Par
– 72
Designed by
– Max Wessler
Established
– 1992
Length
– 6892 Yards
MAJESTIC CREEK COUNTRY CLUB
Majestic Creek Country Club is a challenging course that was once rated by a German golf magazine as a Hua Hin's best golf course. Many Hua Hin locals and expatriates share this view. Designed by Dr. Sukkitti Klangvisai, an experienced Thai golf course designer who is also responsible for Phuket's Loch Palm, Majestic Creek is arguably the best laid out golf course in Hua Hin. Major renovations covering all 27-holes undertaken in 2012 include some of Hua Hin's best Tifeagle turfed greens. Majestic Creek Country Club is set in the foothills 20 kilometers west of Hua Hin. The journey towards the course offers rural views of Thai life including sugar cane, tapioca, and pineapple plantations and farms. Majestic Creek has surrounding natural scenery. Valleys in the nearby mountains supply water to the maze of streams winding around the course, and the builders have been careful to preserve them as natural hazards; which makes for some tricky shots over water.
Holes
– 18
Par
– 72
Designed by
– Dr. Sukitti Klangvisai
Established
– 1993
Length
– 7123 Yards
SPRINGFIELD ROYAL COUNTRY CLUB
The traditional Jack Nicklaus designed Springfield Royal Country Club located off the Hua Hin bypass road is one of the best Hua Hin golf courses, and as good as they come. The course at Springfield has been designed to meet the high demands of a recognized championship golf course, and yet it remains an enjoyable challenge for golfers of all standards. Each hole has a minimum of five tees to play from, but only the brave, and those regularly rub shoulders with the world's best will venture from the black tee. Water hazards periodically come into play, and each hole presents its challenge and character requiring finesse or unrestraint. Accuracy is needed at all times as the rough comprises of a series of hillocks and holes lined by a forest of mature trees.
Holes
– 18
Par
– 72
Designed by
– Jack Nicklaus
Established
– 1993
Length
– 7043 Yards
BLACK MOUNTAIN GOLF CLUB
Black Mountain was transformed from lush jungle and pineapple plantations and located around 25 minutes west of Hua Hin. Set in a valley surrounded by huge black granite rock covered mountains, the Hua Hin golf course was the site for Asian PGA tour events in 2009 and 2010 and the Europe versus Asia match play Royal Trophy in 2011. In 2012 and each year since Black Mountain was selected as one of the 100 best golf courses outside the USA by Golf Digest magazine. In 2014 Black Mountain hosted The Thailand Classic, the first European Tour event to be staged in Thailand. The Thailand Classic also held in 2015 and 2016, is now a major fixture on the European and Asian Tours. The golf course looks as natural as possible and maintains many original features. The most important of these are the small creeks that run throughout Black Mountain and the rocks used as design elements on many of the holes. The original trees kept, and many new ones planted. Meandering creeks with spillways for carts to pass over frame many of the holes.
Holes
– 18
Par
– 72
Designed by
– Phil Ryan
Established
– 2007
Length
– 7343 Yards
BANYAN GOLF CLUB
Built among a former pineapple plantation, Banyan Golf Club in Hua Hin opened in October 2008. Immediately following, the course was awarded 2009 Best New Course in Asia-Pacific by the readers of Asian Golf Monthly. Since then Banyan Golf Club course, clubhouse, and staff have consistently claimed 'Top 3 in Asia' awards and have been featured in the 'Rolex Top 1000' in the World. Thailand golf course architect Pirapon Namatra from Golf East designed the world class 18-hole championship golf course and is known to be one of the most natural in the country.of the holes.
Holes
– 18
Par
– 72
Designed by
– Golf East (Pirapon Namatra)
Established
– 2008
Length
– 7361 Yards
7 Night Hua Hin Golf Tour
Thailand's original beach resort is no palm-fringed castaway island and arguably is the better for it. Instead, it's a refreshing mix of city and sea with an almost cosmopolitan ambience, lively markets, good golf courses and water parks, international cuisine and excellent accommodation. In fact, many visitors never even step foot on the sand.
Hua Hin (หัวหิน) traces its aristocratic roots to 1911 when the railroad arrived from Bangkok and some in the royal family built vacation homes here. By the mid-1920s it was a full-fledged resort town for the Bangkok-based nobility with a golf course and a seaside hotel featuring a European restaurant manager. Even Kings Rama VI and VII built summer palaces here. The latter's Phra Ratchawang Klai Kangwon (Far from Worries Palace) remains a royal residence today and was the full-time home of King Rama IX for many of his later years.
There's a lot of money swirling around Hua Hin, but it's still a good budget destination: seafood is plentiful and cheap, there's convenient public transport and it takes a lot less time and effort to get here from Bangkok than to the southern islands.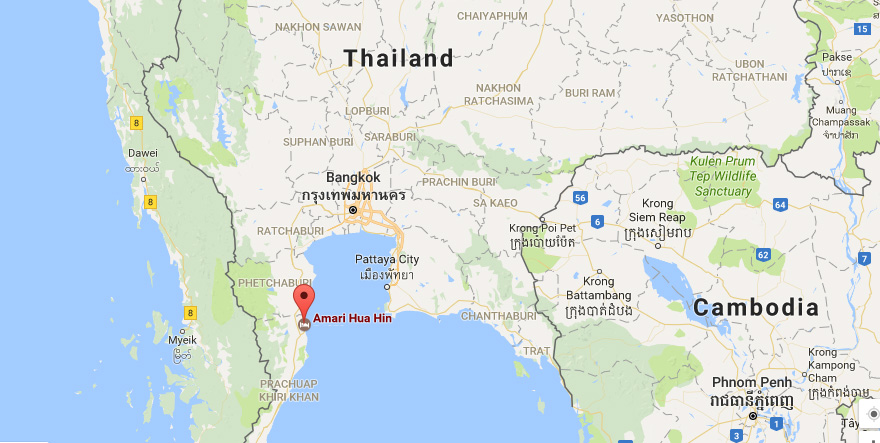 Hear What Our Clients Have To Say
"Brett thanks very much to you and the team for another superb tour. Thanks in particular to you for all the upfront organization and running around – it really took the burden away from Henry and I. Both of us are under pressure at work and we would not have had such a good tour without you. Will definitely reccommend you guys to anyone looking for transport/tour requirements in KZN or looking to follow our sports teams anywhere in the world."
STEVE SPARK – PARKVIEW GOLF CLUB, DAWNPATROL SOCIETY
"Our trip went off very smoothly and enjoyed by all. The arrangements were spot on and the contacts at Zebula very helpful. The accommodation was top class and we are very satisfied with your facilitation and co-ordinating of the trip! It is now good to know that we have Holidaytime's services for trips upcoming to rely on. We are looking at going to George next year to play Fancourt and another course, do you have any options we can look at – it will probably have to include flights from JHB as well. Please let me know. Once again thanks for all the professional assistance, it is much appreciated!"
BRIAN GONSALVES – LIMPOPO GOLF TOUR
"Quality of golf clubs. Friendly people, personal service – Didn't have to drive. Best holiday in a long time. Thank you."
DEREK GOSSINGTON – MIDDLESEX, UNITED KINGDOM
"Organisation was excellent, everything was perfect, we will recommend Resolute Travel to our friends."
OLIVER & ALICE FOYE – UNITED KINGDOM
"Everything you could want. Hospitality, golf courses, transport and smiling faces. Good luck. You deserve to do well"
KEVIN KENNEDY – BROCKETT HALL, UK
"Prompt reliable service – Good Locations – excellent golf courses and hotels. Would certainly use your services again"
JIM DUANE – UK
8 DAY HUA HIN SCHEDULED GOLF TOUR
7 Nights & 5 Rounds
4* Amari Hua Hin Hotel
Don't hesitate to get in touch with the team to book or tailor make your tour.
TOUR COST – from
R27840
per person sharing
Single supplement
Add on R5600 to the above price