Tour Overview
Russian Grand Prix Date: 29th September 2019
Track: Sochi Autodrom, Sochi, Russia
Resolute Travel will provide you with a great opportunity to experience the 2019 F1 Russian Grand Prix as well as the sights, sounds and people of the Black Sea. Our 4* hotel is only 10 km from the circuit. You must book a minimum of 4 nights, which may be extended on request, to give you more time to explore Sochi, the Black Sea or the region's many sightseeing possibilities.
TOUR INCLUDES:
Return Economy flights
Airport Taxes
Return airport transfers
4 nights' accommodation package in a superior 4* hotel in downtown Sochi from the 26th September
Buffet breakfast daily
WEEKEND TICKETS Main Grandstand (Covered – main straight opposite pit area – start/ finish line) Lower Level 2 – High Sides
Return circuit transfers for Saturday and Sunday
Bonus pouch, lanyard and protective earplugs
Representative on hand to guide and assist you for the duration of your stay
EXCLUDES:
Meals unless stipulated above
Travel insurance
Visas
Russian F1 Grand Prix Tour Hotels
4* MERCURE SOCHI CENTRE HOTEL
This property is 2 minutes walk from the beach. This 4-star hotel is located in the centre of Sochi, within a 2-minute walk of the Black Sea pebble beach and a 5-minute walk of Festivalny Concert Hall. A fitness centre and free WiFi are provided at Mercure Sochi Centre Hotel. Rooms here will provide you with an air conditioning, electric kettle and flat-screen TV with satellite channels. Featuring a shower, private bathrooms come with a hairdryer and free toiletries. Some rooms have a sea view. Extras include a desk and a safety deposit box. Kruzheva Restaurant serves Russian and European cuisine, and a variety of drinks is offered at the lobby bar. Guests can access Fit and Spa Lounge in the neighbouring Pullman Sochi Centre. Sochi Central Train Station is 2 km from Mercure Sochi Centre Hotel. Adler-Sochi International Airport is 30 km away.

Russia – Track and Stands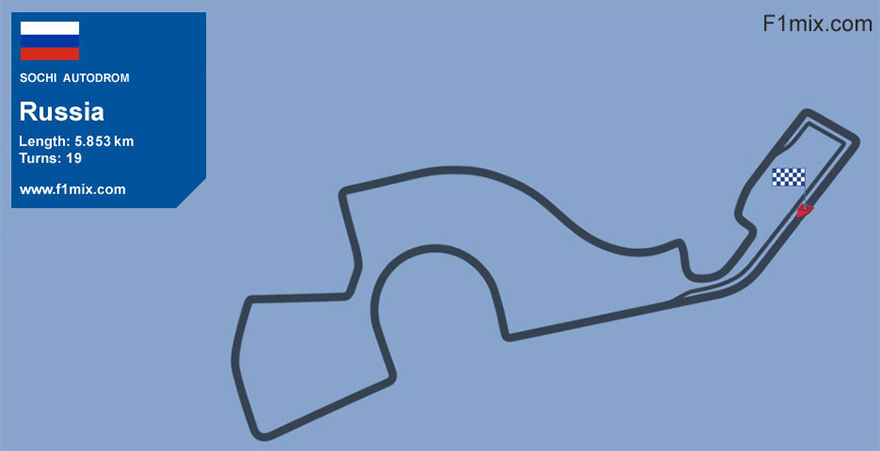 SOCHI INFO
Unofficially nicknamed 'the summer capital of Russia', the city of Sochi usually enjoys 200 days of sunshine a year and is characterised by a unique blend of beautiful scenery, the warm azure waters of the Black Sea and high mountains of the Caucasus, all of which will provide a distinct and spectacular setting for the Grand Prix.

The 5.848-kilometre circuit is located within Sochi's dazzling Olympic Park and winds its way around many of the architecturally eye-catching venues that were built for the Games.
"I'm very impressed with the layout of the track," was the verdict of FIA Formula One race director and safety delegate Charlie Whiting. "The size of the project is very impressive".

Four-time world champion Sebastian Vettel was equally impressed with what he found.
"It's an interesting layout with a good mix of high-speed corners and technical sections," he said. "It's a huge challenge in a Formula One car."

TRANSPORT:
Sochi's primary gateway is Sochi International Airport, which is situated just 7 kilometres from the circuit. As befitting a major sporting destination, the city is well served by public transport. To get from the airport to downtown Sochi or the Olympic park, you can take a shuttle bus or travel on the newly-constructed Sochi Aeroexpress railway. Hire cars and taxis are also readily available, though Sochi's numerous parks, beaches and architecture also make it a pleasurable city to walk around.
Useful tips
Don't forget your swimming costume – or your skis! Sochi's unique subtropical climate and October race date mean that, in theory, it's possible for visitors in town for the Grand Prix to be able to both swim in the sea and go skiing in the mountains. Typically the water is warm enough to take a dip between April and October, whilst the skiing season runs between October and May.
It's worth noting that foreign citizens are required to have a visa to enter the Russian Federation, although a visa is not needed for the tourists from the countries with which the Russian Federation has established a visa-free entry agreement. See the Visa/Passport requirements link at the top of the page for more information.
Sochi boasts some breathtaking skiing resorts © Kirill Umrikhin

WHERE TO GO?
The Olympic Park commands plenty of attention, but Sochi offers a plethora of other interesting attractions.
Visitors can take in an opera at the dramatic Winter Theatre, watch 'the singing fountains' in the city centre, stroll around Sochi's art and history museums, explore the stunning 30-acre Dendrary Botanical Gardens or one of the other picturesque parks, sample Russian cuisine in a local restaurant, discover sea creatures at the Discovery World Aquarium, take an excursion to view local waterfalls, wander along the Black Sea coast, or simply walk around town observing the many examples of Stalinist architecture.

EXTENDED STAY
It's not for nothing that Sochi was awarded the Winter Olympics, and tourists arriving in the region have the option of skiing and snowboarding on the same slopes used in the Games by visiting the world class ski resort of Krasnaya Polyana, just 40 kilometres outside of the city in the magnificent West Caucasus mountains.

The Western Caucasus also contains the Caucasian State Nature Biosphere Reserve, a UNESCO world heritage site that is described as 'the only large mountain area in Europe that has not experienced significant human impact'. The area includes large tracts of undisturbed mountain forests which are inhabited by numerous wild animals, including bears, wolves and the recently reintroduced European bison.
Closer to the city there are numerous parks, beaches, caves and lakes to explore, all of which are well worth a visit.
Race History
The Sochi circuit, located in the Black Sea resort of the same name, is the first purpose-built Formula One facility in Russia and hosted the country's inaugural Grand Prix in October 2014, in the same year that the city also stages the Winter Olympics.

Sochi's Formula One relationship formally began in October 2010, when an agreement to host a Grand Prix was signed between race promoters OJSC Center Omega and the Formula One group of companies, with the support of the Russian government and in the presence of Vladimir Putin.

Construction of the 5.848-kilometre, 55,000-capacity circuit came under the design supervision of renowned architect Hermann Tilke. The track is integrated into the Olympic Park infrastructure, with facilities located in close vicinity to the Olympic Park railway station and to the roads which connect the Olympic venues with Sochi International Airport.

The track width varies from 13 metres at its narrowest point to 15 metres at the start-finish line. The circuit, which runs in a clockwise direction, consists of 12 right- and six left-hand corners, and combines both high-speed and technical sections. On their first visit to the track, Formula One cars reached 332 km/h on the 650-metre straight between the first and second turns, with Lewis Hamilton averaging 213 km/h as he claimed pole for Mercedes.

"It's an amazing feeling to come to this beautiful place and to race on this track," Hamilton said. "It's got really good grip and great corners, with a lot at medium speed; it's good fun."

Tilke added: "It is a fantastic facility with a great atmosphere. I am very optimistic about the future of the unique racing track in Sochi."
4* Mercure Sochi City Centre
25th September – 1st October 2019
Russian F1 Grand Prix
Don't hesitate to get in touch with the team to book or tailor make your tour.
4* Mercure Sochi
R34980 per person
Based on 2 people sharing
Single supplement
Add on R3600 to above price.